Large Welcome Bear (Style #1)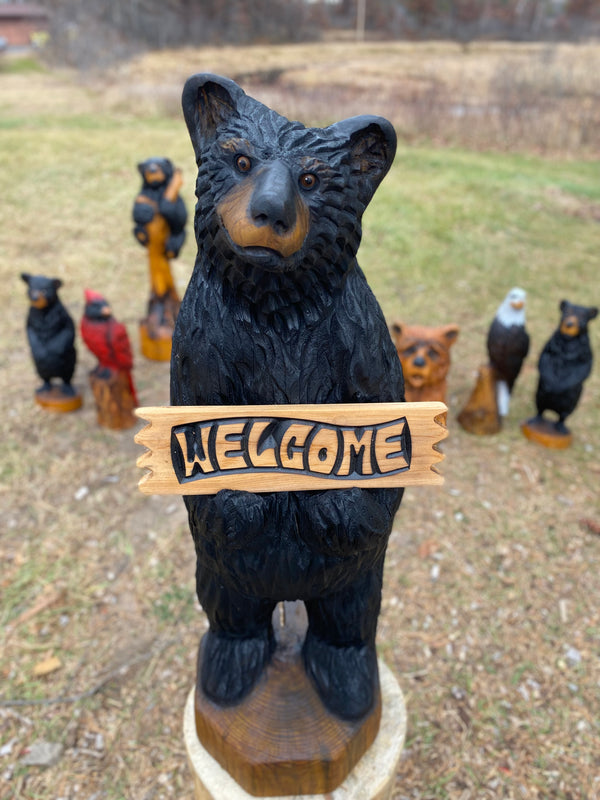 Each carving is unique! No two will be the same. Each one comes with an abundance of character and its own personality. Crafted by local artists from Minnesota, these carvings are sure to liven up any space.
This Large Welcome Bear (Style #1) is the perfect way to greet your guests! Standing at an impressive four feet tall, this hand-carved bear is sure to make a statement. Each bear is carefully crafted from high-quality wood and finished with a waterproof sealant, making it durable and long-lasting. We know that first impressions matter, so we've put extra care into ensuring that each bear is as realistic and life-like as possible. After all, who doesn't love a big, friendly bear?

This Large Welcome Bear (Style #1) makes the perfect addition to any home or business. Whether you're looking to add some extra curb appeal to your home or want to make a lasting impression on customers and clients, this bear is sure to do the trick! And because each one is hand-carved, no two are exactly alike - making yours truly unique.

So why wait? Order your Large Welcome Bear (Style #1) today!
Dimensions: 12" x 34"
"Welcome" signs are included! Dimensions may vary.

Each is carved using chainsaws and grinders, as well as burned to add color. They are are also treated for outdoors.

Upon receiving your carving you may notice some minor cracks. As wood us organic material, there is some aging that takes place. Do not worry though, these do not impact the integrity of the carving!